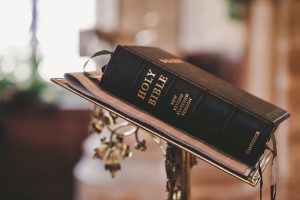 The Scriptures authorized for the Mshikhanim differ from that of other religious groups substantially. We accept all the books of the Old and New Testaments including a number of other texts that we consider sacred. The authoritative texts of the Mshikhanim include the Bible (Scriptures), venerable tradition and divine revelation handed down to the prophets, scribes and senior elders.
Peshitta Old Testament
The books of the Peshitta Old Testmanet (Tanakh) include the following:
Genesis
Exodus
Leviticus
Numbers
Deuteronomy
Job
Joshua
Judges
1 Samuel / 2 Samuel
Psalms
1 Kings / 2 Kings
Proverbs
Wisdom
Ecclesiastes
Song of Songs
Isaiah
Jeremiah
Lamentations
Epistle of Jeremiah
Epistle of Baruch
Baruch
Ezekiel
Hosea
Joel
Amos
Obadiah
Jonah
Micah
Nahum
Habakkuk
Zephaniah
Haggai
Zechariah
Malachi
Daniel (with "Prayer of Azariah" and "Song of Three")
Bel
The Dragon
Ruth
Susanna
Esther
Judith
Tobit
Ben Sirach
1 Chronicles / 2 Chronicles
Apocalypse of Baruch
4 Ezra
Ezra
Nehemiah
1 Maccabees
2 Maccabees
3 Maccabees
4 Maccabees
Josephus, Wars of the Jews
Peshitta New Testament
The Peshitta New Testament (as used by Mshikhanim) include the following:
Matthew
Mark
Luke
John
James
Acts of the Apostles (including Didache)
Hebrews
1 Peter
1 John
Other texts considered sacred by Mshikhanim include the following:
Romans
1 Corinthians
2 Corinthians
Galatians
Ephesians
Philippians
Colossians
1 Thessalonians
2 Thessalonians
1 Timothy
2 Timothy
Titus
Philemon
2 Peter
2/3 John
Jude
Revelation (Apocalypse)
Authorized Translations
We have traditionally used the translations of the Peshitta that were produced by the Church of Jerusalem or George Lamsa. However, there are a number of other translations that are enjoyed by Mshikhanim in their personal study and reflection on the Father's Word.
The most scholarly translations, and most preferred for the Hebrew and Greek Scriptures in English are the following:
New Revised Standard Version
New American Standard Bible