A note to the brethren from Br. Joseph – January 9, 2018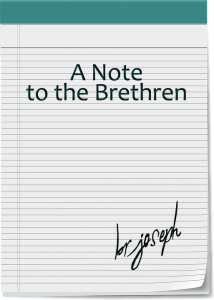 Shlama to all the brothers and sisters among the Mshikhanim.
I pray each of you are doing well.
Please be sure that you are utilizing the daily readings for personal reading and meditation, and the Sabbath readings for congregational use. These are posted daily by Mthr Urjani Chenier Micklè at http://www.thomasine.org/
A message is provided to the congregations once a month from either the Patriarch or from myself or others. The local brothers or sisters who are authorized and capable should be providing messages on Shabbat based on the appropriate Scripture readings.

If you have not already read the letter from Rabban Mar Andreos to the Mshikhanim, please do so now. This letter should be read within the congregations no later than January 28, 2018. http://mshikhanim.org/en/letter-to-the-mshikhanim-from-rabban-mar-andreos/
Those brethren who have translated Mshikhani literature, pages or other materials into other languages, please share these by sending them to the Communications email address. This way they can be published in print and online to benefit as many people as possible. We appreciate all the work everyone does in providing such services to all the brethren and seekers, including sharing the Good News of Mshikha with others.
If you have any questions about this please use the Communications email address. Thank you.
May Mar-Yah bless you and keep you.
Br. Joseph